THE ROUTE TO THE VINEYARD
Alfonso Chadwick dedicated his life to his twin passions of wine and polo. He had grown up with a love of horses and the countryside.He was also fearlessly competitive and quickly grew to love the challenging sport of polo at which he began to excel.
In 1942 Don Alfonso Chadwick had bought the Viña San José de Tocornal estate situated in Puente Alto on the rural outskirts of Santiago. It was here that Don Alfonso built his home and polo field. The estate comprised 300 hectares, 216 of which were planted to vineyards. It was certainly clear to the family that this place had an exceptional terroir, especially for its red wines. Managed by Don Alfonso with great passion for over 20 years, it is this vineyard – with its history dating back to 1880s – that was the origin of Chile's most coveted appellation for fine Cabernet Sauvignon: Puente Alto DO.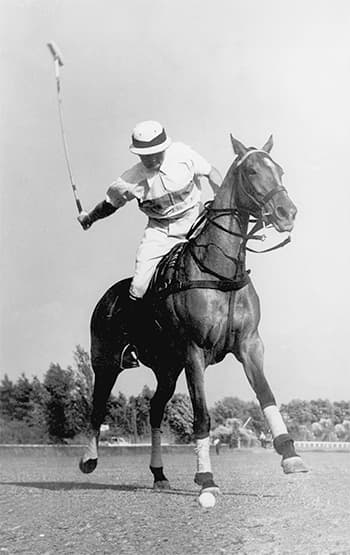 In parallel to his wine endeavours, Alfonso's passion for polo was such that he laid his own polo field and built stables at the family estate in Puente Alto, where he would practise daily. With such discipline and dedication during his career, he led his team to win nineteen Open Championships, just one shy of the Guinness World Record.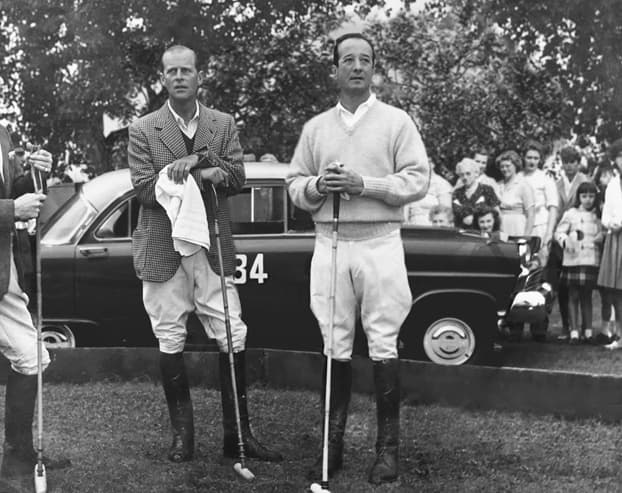 HRH Prince Philip, Duke of Edinburgh in a friendly match with Alfonso and friends in 1968.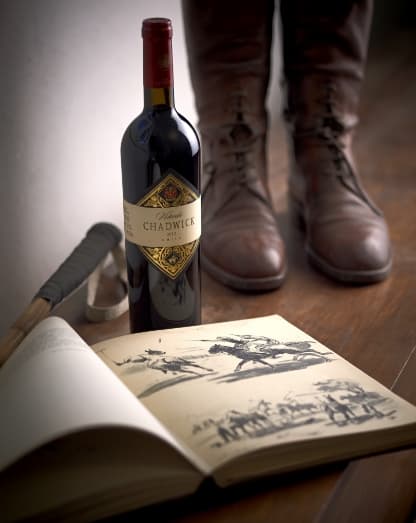 After the agrarian reforms set by the government, beginning in 1962, Don Alfonso sold most of the property. Consequently, the estate was subdivided among a number of buyers, but the family was able to retain their home as well as twenty-five key hectares of land, including Don Alfonso's polo field.

A 1953 map of the Viña San José de Tocornal estate after it had been bought by Alfonso Chadwick. The coloured section of the map is the vineyard today.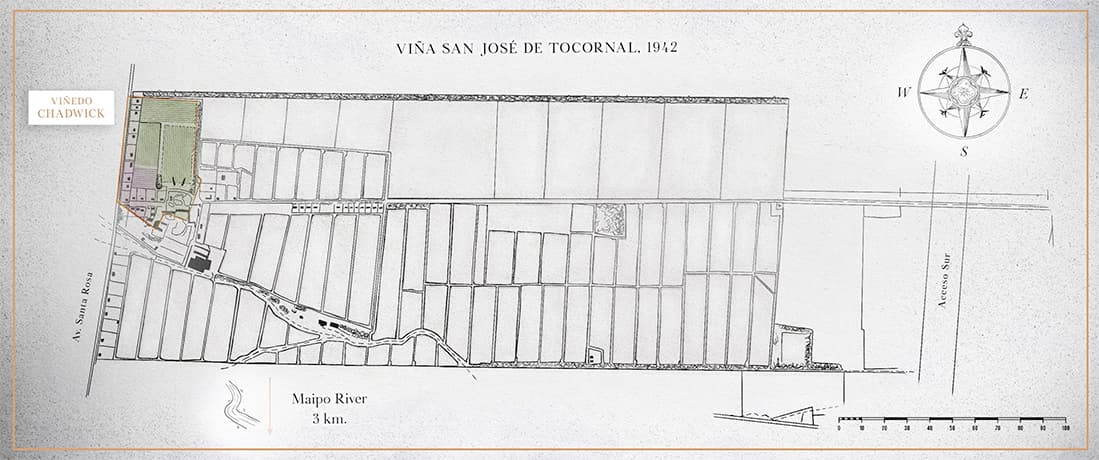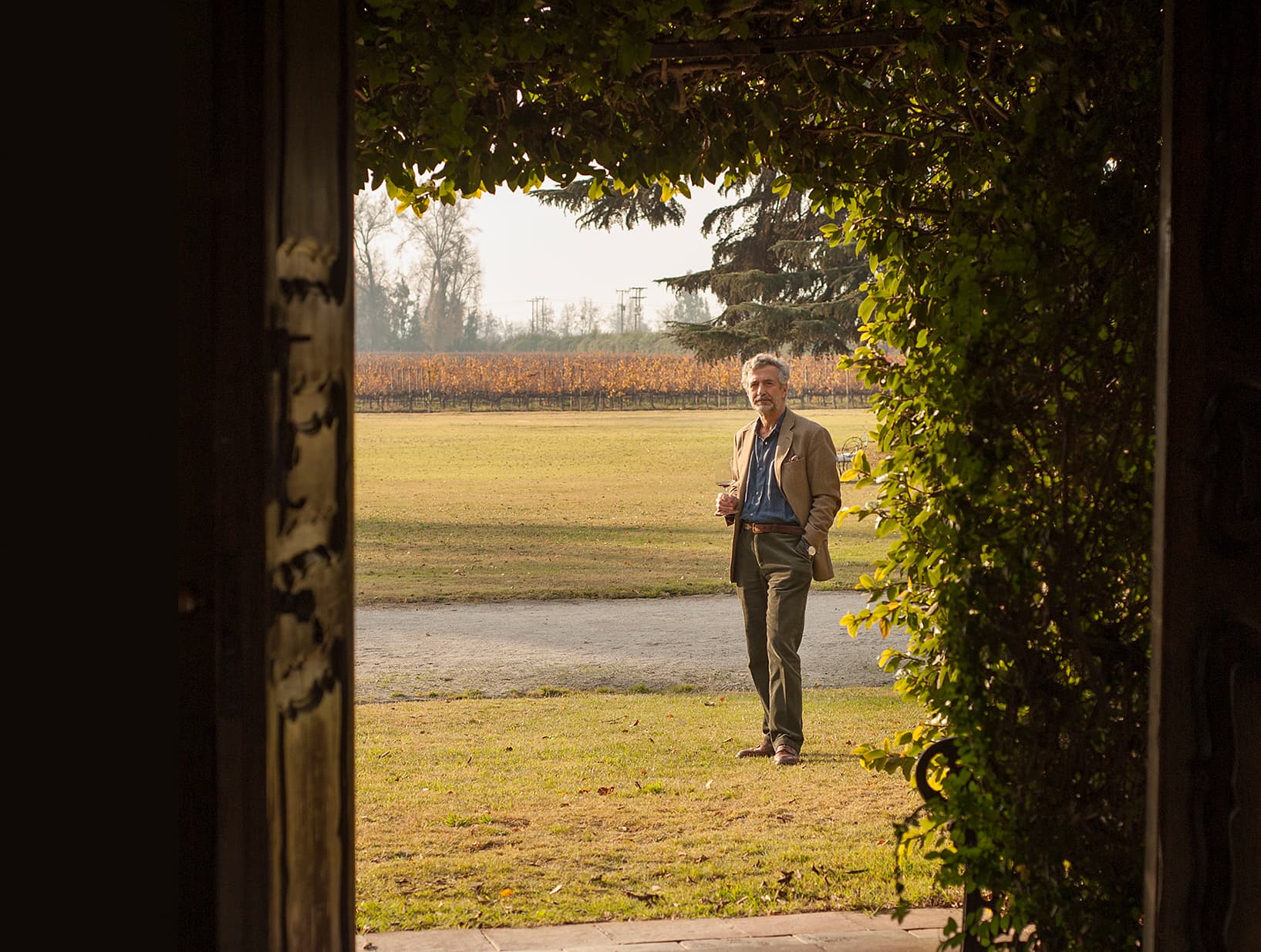 By the early 1990s, Eduardo had assumed control of the wine business from his father. And by this time, Alfonso had also stopped playing polo. It was therefore at this point that Eduardo approached his father and suggested that they should plant vines on Alfonso's prized polo field in order to make an outstanding wine of the utmost quality. Alfonso could see the logic of the proposition and shared Eduardo's belief in the potential of the estate's historic terroir. And so, he willingly gave his consent.
In 1992, a tightly defined 15-hectare vineyard was carefully planted with vines produced through massal selection from the best Cabernet Sauvignon grapes in the family's vineyards. A year later, Don Alfonso passed away, so he never saw or tasted the finished wine that was named after him. It is for this reason that his son Eduardo became so passionate in his quest to honour his father's legacy through this wine. More than anything, Eduardo and his family have sought to create and craft the ultimate expression of this vineyard, as a permanent tribute to Don Alfonso's passion for wine and his constant pursuit of excellence.